Evernote is a popular note-taking and organization app used by millions of people worldwide. Although it is not specifically designed for the real estate industry, its versatile features can be adapted to meet the needs of real estate agents, brokers, and property managers. In this comprehensive guide, we will explore how Evernote can be used to enhance productivity, improve client management, and streamline communication in the real estate business.
Organizing Property Information
One of the primary challenges for real estate professionals is keeping track of numerous property listings and their associated details. Evernote provides an effective solution by allowing users to create separate notebooks for each property. Within these notebooks, you can store property descriptions, photos, floor plans, and other relevant documents. By centralizing this information in one location, you can easily access and update property details as needed.
Tip: Use tags to categorize properties by location, property type, or price range. This will make it easier to find the right property when working with clients.
Client Management
Building strong relationships with clients is a critical aspect of success in the real estate industry. Evernote can help you manage client interactions by providing a platform to store and organize their contact information, preferences, and notes about their requirements. Create separate notebooks for each client and use them to store your communications, property suggestions, and other relevant information.
Tip: Utilize the reminder feature to set up follow-up tasks for each client, ensuring that you stay in touch and provide timely updates on property listings.
Task Management
Keeping track of daily tasks, such as scheduling property showings, attending meetings, and following up with clients, can be overwhelming. Evernote's task management features help you stay organized and on top of your responsibilities. Create a dedicated notebook for tasks and use checkboxes, due dates, and reminders to ensure you never miss a deadline.
Tip: Sync Evernote with your calendar to keep all your appointments and tasks in one place, making it easier to manage your schedule.
Team Collaboration
Working with a team of real estate professionals often requires efficient communication and collaboration. Evernote's sharing capabilities make it simple to collaborate with your team members. Share notebooks or individual notes with your colleagues, allowing them to view and contribute to the content. This streamlined communication helps ensure everyone is on the same page and promotes a more cohesive team.
Tip: Use the Work Chat feature to communicate with your team within the Evernote app, keeping all your discussions in one place.
Storing Marketing Materials
Marketing plays a significant role in the real estate industry, as agents and brokers must showcase property listings to potential buyers and renters. Evernote can be used to store marketing materials such as brochures, flyers, and digital assets. Having easy access to these materials makes it simpler to share them with clients or colleagues, ensuring that your marketing efforts are consistent and efficient.
Tip: Create templates for your marketing materials within Evernote to ensure brand consistency across your team.
Document Storage and Organization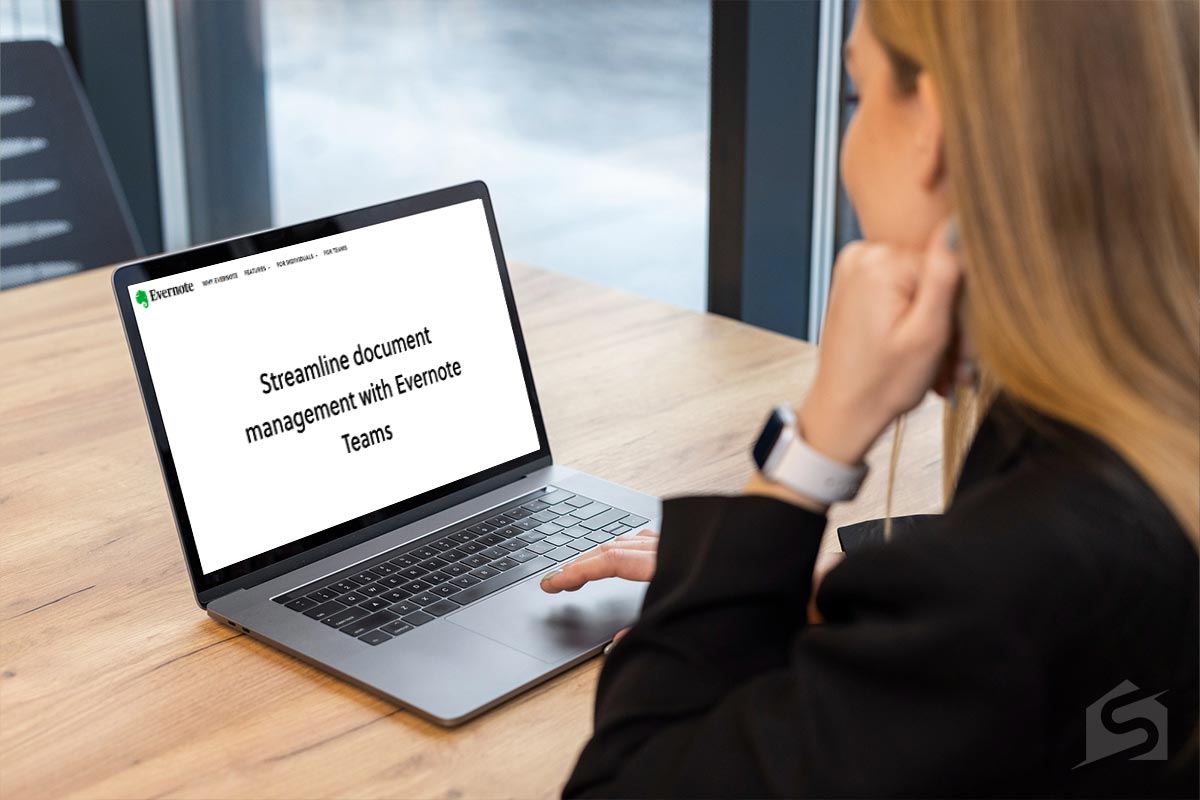 Real estate transactions involve a considerable amount of paperwork, including contracts, leases, and closing documents. Evernote allows you to store these essential documents in a secure, organized manner. By creating a dedicated notebook for each transaction, you can keep all relevant paperwork easily accessible and streamline the closing process.
Tip: Use Evernote's document scanning feature to digitize physical documents and store them within the app, reducing the need for physical storage.
Research and Education
Staying up-to-date on industry trends, market reports, and best practices is essential for real estate professionals. Evernote provides a platform for storing articles, research materials, and other resources related to the real estate industry. By organizing these resources within notebooks and using tags, you can quickly access the information you need to stay informed and make data-driven decisions.
Tip: Use the Web Clipper browser extension to save articles, images, and other online content directly to your Evernote account without leaving your browser.
Integration with Other Tools
Evernote's versatility extends to its ability to integrate with other popular productivity tools. By connecting Evernote to applications such as Google Drive, Trello, and Slack, you can create a seamless workflow that enhances efficiency and reduces the time spent switching between apps.
Tip: Explore the Evernote App Center to discover more integrations and add-ons that can help you further customize your Evernote experience for the real estate industry.
Conclusion
While Evernote may not be specifically designed for real estate professionals, its wide range of features can be tailored to suit the unique needs of agents, brokers, and property managers. By using Evernote for tasks such as organizing property information, managing clients, collaborating with team members, and storing important documents, real estate professionals can enhance their productivity and provide better service to their clients.
However, it's essential to remember that Evernote is just one tool among many available to real estate professionals. Depending on your specific needs, you may find that specialized real estate software and apps offer additional features, such as CRM, transaction management, and marketing automation, that cater directly to the real estate industry. The key is to evaluate your needs and choose the tools that best support your business objectives.