So you've invested in your first rental property. Congratulations on taking that first big step! Investing in real estate can be lucrative and is an excellent way to build wealth. However, to ensure your property provides the most income possible and continues to grow in value, you'll need to manage it properly. The best way to do that is through a property management virtual assistant.
Home Rental Property Management
Good property management is key to your success as a real estate investor. However, as a new real estate investor, you may be unsure how to manage your first real estate property. Managing a rental property involves many tasks. These tasks include:
Receiving applications from tenants, screening applicants, and choosing a tenant.
Maintaining the property and calling in specialists for specific tasks as needed.
Ensuring you pay all the bills on the property
Collecting rent and managing arrears
Tracking the financial performance of the property
Retaining tenants
Handling a rental vacancy when it occurs
You are probably very clever at choosing properties to invest in and improving them. But making clever investments is a very different skill from property management. Property management requires organizational skills, attention to detail, knowledge of software tools, and good communication skills. It also requires some knowledge of accounting software. Delegating tasks to a virtual assistant can ensure they are completed well while protecting your own sanity.
You might be able to develop these necessary skills. However, if you have only one property, you probably also have a day job. Learning all these skills might detract from your ability to do your day job. Performing all the tasks also may take up a lot of time. You'll work all the time and become burned out and frustrated.
Finding Property Rental Insurance
You'll also need to find insurance for your rental property as soon as possible to protect your investment. Many companies offer this insurance to investors and landlords. You'll want to research the companies to discover which will best meet your needs. For example,
If you leave your personal property on site, will it be covered in case of loss?
Does it offer sufficient liability coverage in case someone is injured on the property?
Does it cover you for loss of rent if a disaster makes the home uninhabitable?
Do you want to cover damage to the home by vandals?
Property rental insurance also comes in different types. The research will help you determine which type you need.
A property management virtual assistant can do the research for you and, based on your criteria, recommend the best insurance policy for your needs.
Hiring a Property Management Virtual Assistant
You want to hire a good property manager because your success depends upon it. Hiring a property management virtual assistant locally will take up a significant amount of your time. You'll have to run advertisements or post the job on job sites. Then you'll have to look through applications and choose those to interview. You'll have to conduct background checks, too. Even if you're accustomed to hiring people, hiring locally is a lot of work. You may have a steep learning curve if you've never hired anyone before.
Hiring locally will also be costly. You want to receive income from the property, so you'd like to find an excellent property manager without overpaying.
A better way to hire a property manager is to work with an offshore real estate staffing firm. Partnering with an offshore staffing firm makes hiring easier. The firm will help you set up your systems and procedures so that your relationship with your virtual assistant will be productive. It will help you develop a job description to ensure you're asking for what you need.
The firm will also advertise for the position and cull through the applications to find a small number of qualified candidates for you to interview. The firm will also do the necessary background checks and ensure you're following the hiring regulations in the country where the property management virtual assistant is based. Finally, the firm will coach you and support you as you orient your new property manager and learn to work with them.
Working with an offshore virtual staffing firm located in a low-labor-cost country will also save you money. Yet, the candidates you'll choose from will be top-notch professionals. For example, a property management virtual assistant in the Philippines will cost about one-third of the cost of a local one in many Western countries. Filipinos are clever, well-educated, hard-working people who are eager to work with foreign companies. They are willing to work during hours convenient to you, as well.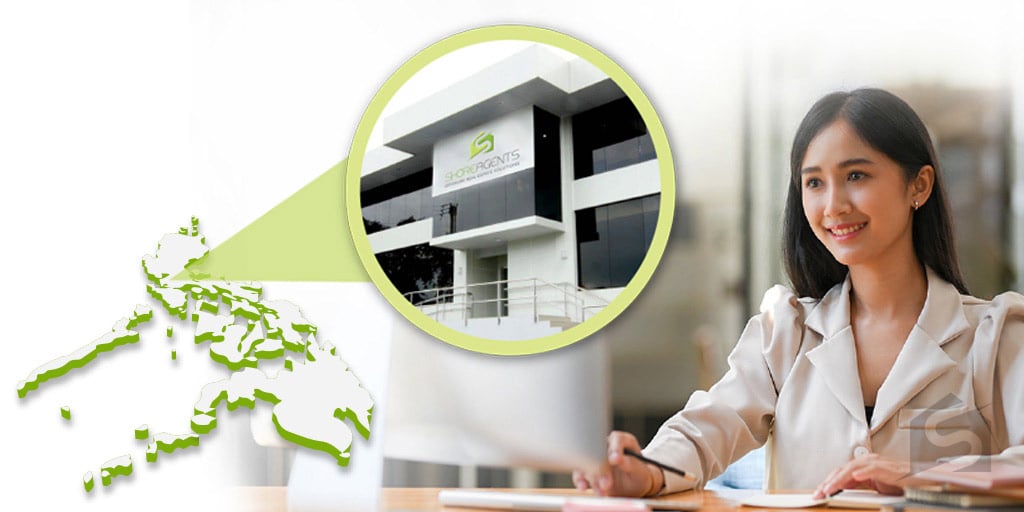 ShoreAgents is a full-service offshore solutions firm that can help you find the right property management virtual assistant. ShoreAgents also support you with advice and coaching. Our team understands real estate investing and what you need from your property management assistant. Getting started is easy. Contact us today.