15 Mistakes You Should Avoid When Buying Property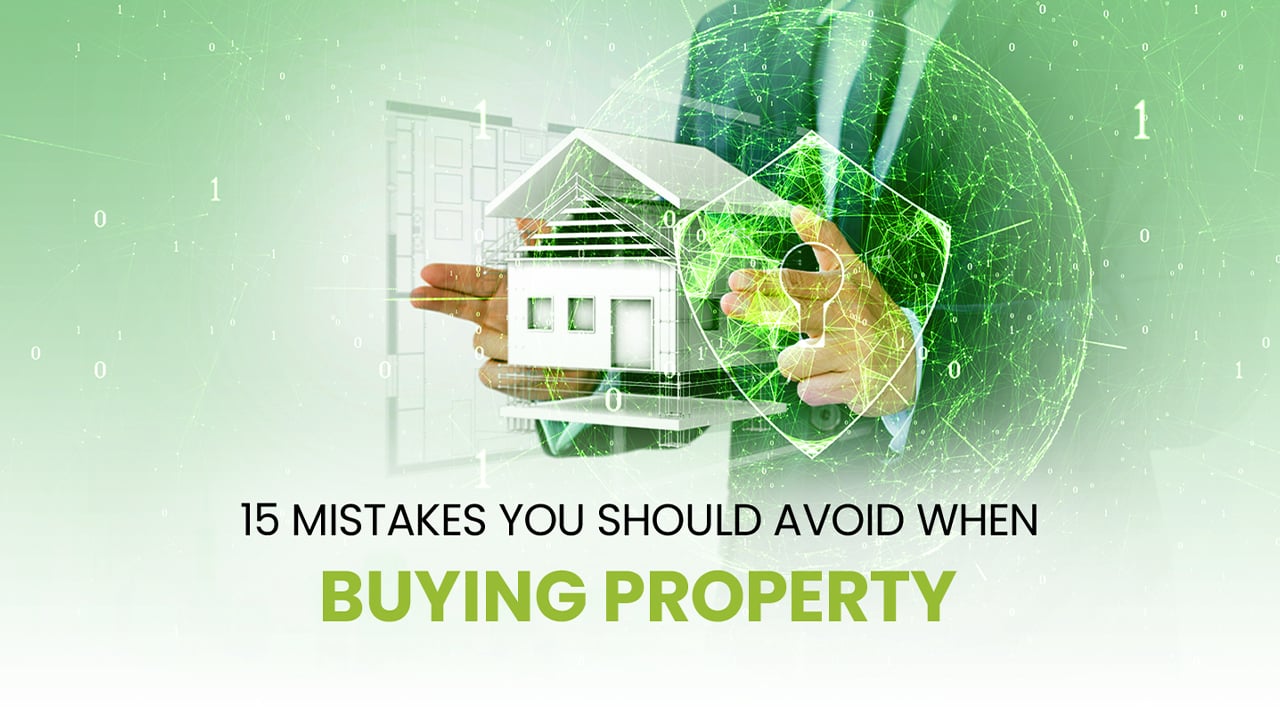 Buying a property is a time of great joy and satisfaction in anyone's life – after all, this is a way to have more security and stability. However, to take advantage of these benefits, it is necessary to take some fundamental care during the acquisition and search process.
There is a whole bureaucratic process that, when not followed, can bring great headaches in the future. In addition, it is essential to note the type of property and whether it fits your demands and needs.
Want to know more about it? So continue reading the content below and discover the 15 main mistakes you should avoid when buying a property.
1. Search The Property Only Superficially
The investment made for the purchase of a property has a significant value, so it is important to do a thorough research on everything that involves the purchase to make the best decision.
To begin, find out the value of the average square meter in the region. As the market has appreciated a lot, some owners can raise the price a lot and you can pay a larger amount than you should. By comparing the values, it will be possible to obtain an average and identify abusive prices.
Obviously, there are many factors that can cause a property to have a higher value than another, so, before drawing your conclusions, check all the characteristics. Even if, if the property is much lower than expected, you need to know the reason.
A property that has a very beautiful design and finish, in the end may have a bad structure. Finding this out before making a purchase avoids that "the cheap is expensive".
Finally, check to see if the person who is selling you actually owns the property and that he or she is responding to a lawsuit. Although it seems difficult, there are cases in which the property cannot be sold, as when there are previous debts of the owner with the justice.
2. Don't Check The Documentation Before Buying A Property
Buying a property means generating equity and bringing more security to your future and that of your family. However, for this, it is necessary to be sure that the property is legalized and does not present any serious problem in its documentation. The positive side is that it is not difficult to do this check before making a proposal.
All paperwork is available from public agencies and can be verified by anyone. Therefore, request documents such as:
· negative certificate of Property Tax and Urban Territorial
· discharge of essential services, such as water, energy and telephone;
· negative certificates from the Federal, Criminal and Civil courts;
· updated registration at the municipality's Registry Office.
3. Go To The Property Only Once
One of the biggest mistakes people make before buying houses for sale in Abbotsford BC is not visiting the place before closing a deal.
The neighbourhood may look charming and the apartment a true consumer dream, but remember that a positive first impression is not enough to support a decision as serious as buying a property, do you agree?
The real advantages and disadvantages of a region can only be noticed from the third or fourth visit to the site. In addition, it is very important to move around the neighbourhood at different times, evaluating specific aspects such as:
· the flow of people;
· neighbourhood security and policing;
· public services, such as basic sanitation;
· traffic in the region, among other relevant issues that must be considered.
Another useful tip to avoid this type of error is to talk to the residents of the condominium, neighbourhood or locality in question. Ask questions about the aspects we cited to check if the property meets your needs and meets your profile.
The final recommendation is that you visit the region of the property on alternate days and times, including on weekends and at night.
4. Don't Search For Location Information
In their anxiety about leaving their rent, their parents 'or in-laws ' homes, many people rush to acquire the property and do not take into account important characteristics, such as location.
Some properties have lower prices because they are far from the centers, in places far from shops, and difficult to access. In this case, it is important to ask yourself if it is really worth it, after all, you will stay there for a long time and need to get to work every day.
Take into account the cost and time of this transportation. For some people, there are no problems, but for others there are. Those with children also need to research the nearest schools, in addition to hospitals. It is also necessary to research the neighbourhood, talk to residents to learn about the safety and tranquillity of the place.
5. Not Thinking About The Future
Another fairly common mistake is buying a property that may be perfect for you today, but over time the situation may change. A couple who just got married, for example, believes that a property size small is enough.
But what if they have children? People who like to have pets at home also need to think of a comfortable space, such as a yard, so that they can move around.
Buying a house just because it reminds you of good memories can also be boring. At this moment, the nostalgic feeling can propel you, but in the future, if it does not have a good conservation, structure and demands a lot of expenses with renovations or is not well located, you may regret it.
So, no hurry. Analyze all the pros and cons before making your decision and buying your property.
6. Get A Very High Loan To Buy A Property
Buying a property is not cheap, but many people are excited about the possibility of generating equity and getting out of rent. This is really advantageous, but it doesn't mean that you can get into debt anyway. If you have other debts, for example, it is essential to pay them off before applying for credit with a financial institution or construction company.
It is also important to talk a lot with the person in charge and do simulations to understand not only how the parcels will affect your household budget, but also to find out about the possibilities of using your FGTS (Guarantee Fund for Time of Service) or understand what are the amortization types. Only sign the agreement when you are aware of everything.
Make sure you have enough money to maintain your lifestyle. Compromising your income to repay the loan may seem like a good sacrifice to get your own home, but in practice, it can be a big problem.
Especially because, occasionally, you will need to have extra money to renovate the property or to deal with unforeseen circumstances. Therefore, make a family financial planning, put in your pencil all the daily expenses, including food, housing, car expenses, and any other amounts.
If you add this amount to the loan installment, you still have a good amount, so the property can be purchased with more peace of mind. If this does not happen, it may be necessary to wait a little longer, add more resources and then make the purchase.
7. Disregard Other Fees And Taxes
The price of a property is not limited to the installment and financing installments. Forgetting that in addition to these costs there are other expenses that can make the transaction more expensive is a big mistake that should be avoided when buying a property.
There are taxes and fees that should not be ignored under any circumstances, especially with regard to the value that they can add to the purchase of the property.
In addition, it is important to mention the expenses with transfer documentation, condominium fees, and the brokerage service provided in the intermediation of the process. When added together, these values ​​can compromise income more than planned and become a problem.
Buying a property is a great achievement and there is no denying it. However, renovating or replacing all old furniture and electronics with new ones are tasks that can be difficult to accomplish in this context.
8. Don't Read The Contract Carefully
This error can really cause a lot of problems. Although most people are already aware of this, some are ashamed to question the contract. But remember that this is a customer's right, which can get rid of big problems by simply questioning.
If your doubts are not completely answered, do not be carried away by the pressure or the friendliness of the real estate agent/owner. Ask for a copy of the contract to read more calmly at home and, if necessary, find a lawyer to answer your questions.
Among the clauses that can cause problems are the payment of the brokerage fee – it must be paid by the construction company and not by the buyer. The intervention fee for the sale of the property and the clause that obliges the construction company to pay a fine for the delay in delivering the work.
There is little care when it comes to an investment as big as buying a property. The acquisition should bring you joy, security, and tranquility and not a headache!
9. Do Not Research About The Broker And Real Estate
There are many criminals who pretend to be real estate agents in order to apply scams and, unfortunately, many people fall into scams and lose all the money from years of savings and the possibility of achieving the dream of owning a home.
Undoubtedly, not checking if the broker or real estate agent that is mediating the process of buying the property is suitable is one of the biggest mistakes that can be made.
What makes this kind of problem possible is that anyone can be seen as a broker. Unless you know how to identify a fraudster from a legitimate professional, don't you?
So, look for a suitable real estate company. Ask for tips from friends or relatives and use the internet to check the company's reputation. You can also request the name of the broker and verify that he is properly registered with Regional Council of Realtors.
Check the reputation, qualifications, and experience of this professional. As much as all these tasks seem laborious, buying a property is something that must be done calmly and patiently. Thus, you are much more protected and have support to enjoy your new property.
10. Don't Check If The Seller Is The Owner
Unfortunately, it is more and more common to face the situation in which a property is sold by a third party without having any connection with the property in question.
In the case of people who buy vacation homes in coastal cities or who have a property that they cannot visit often, it is very common for invasions to occur and for invaders to try to sell the property without documentation.
In addition, there are scams by children, partners, and even spouses who try to sell the property without the real owner knowing it. Therefore, to avoid this type of situation it is necessary to demand all the original documents, appear at a Real Estate Registry Office and take an updated copy of the property registration with its respective certificate of encumbrance – the registry will charge a small fee.
Another important point to be highlighted is that the deposit of the money should only be made in the account of the real owner after you make sure that the property is in your name and without any pending or irregularities with the justice.
The name of the owner of the property appears on the registration. Remember this to avoid a very common confusion: deed and registration are separate documents. What really counts is what appears on the registration.
11. Don't Check If The Owner Is Involved In Any Legal Process
Speaking of checking irregularities with the law, when buying a property, it is very common to make the mistake of evaluating only the situation of the property, ignoring the fact that the documents of the owner have a very important weight in the process as a whole.
For example, the owner may be involved in some type of legal process and must pay fines, rights, or indemnities to third parties, which may be companies, individuals, or even the Government.
In cases with which we have just cited, it is very common for malicious individuals to try to dispose quickly of all the assets they have, as this makes it difficult to pay their debts. However, the procedure is illegal and if you buy a property from an owner who is in these conditions, the court has the right to cancel the transaction, causing you to lose all the money invested. Therefore, it is essential to analyze whether the owner has debts with the Government, state, municipality, banking institutions, labor justice, among others.
12. Don't Check If The Spouse Agrees With The Sale Of The Property
In cases of imminent separations, it is very common for one of the parties to decide to sell the property without the spouse knowing about it. The same usually happens when an heir tries to dispose of the property without informing others, with the intention of not dividing the value of the sale of the property.
However, the sale of a property without the other party being aware can cause the real estate transaction to be canceled. That is, in addition to being without the property, you will still have to pay the fees of a lawyer to recover your money in court.
So don't settle for a simple signature on blank paper. After all, in the hands of a person with bad intentions, any signed piece of paper can pass for a power of attorney.
Make a point of talking in person with the couple, making sure that in fact, both agree with the sale. If in doubt, also request the marriage certificate and check if the property's registration is updated according to the owners' marital status.
13. Don't Plan For Spending On Reforms
Speaking of renovating the property, a mistake that should also be avoided is not including this type of expense in your planning.
There are many structural problems that can appear only in a certain period after the realization of the purchase of the property, such as problems in the hydraulic, electrical network, and some necessary adaptations, mainly in old units.
One way to minimize the chances of taking this type of risk is to require an assessment of the current property, which must be carried out by a professional or trusted company.
In addition, it is essential to have an emergency fund for possible contingencies, such as urgent reforms, and that is exactly what we will talk about in the next topic.
14. Not Having An Emergency Fund
As much as we plan to not go through delicate situations in life, many times, things happen differently than expected. After all, life is composed of planned and unexpected events.
So, before making the final decision to buy a property, avoid a mistake that most people make, which is forgetting that there is always the possibility of unforeseen circumstances and emergencies.
What we mean is that in addition to the installments for the acquisition of the property, fees, extra taxes and the cost of living, and that of your family, it is essential to have a reserve fund for possible unplanned eventualities.
The loss of the job of someone who is part of the family income source, a sick relative, a drastic change in the market, among other cases that cannot be controlled, are just some of the reasons for which it is necessary to analyze before embarking on the enterprise. buy a property.
The fact is, you need enough capital to pay for your routine until things get back to normal.
15. Asking The Wrong People Questions
To conclude, it is important to mention an error that may seem insignificant, but which is responsible for serious problems that occur after the purchase of the property is completed: asking the wrong people for details about the transaction.
For example, when you leave the fitting room of a clothing store, when you ask the salesperson if the garment you are trying on is good, will you trust that professional's response, knowing that he earns a commission for each clothing sold? Well, the same applies to the purchase of a property.
The realtor has a legal and ethical obligation not to omit any details about a property from his client. But that doesn't stop him from applying persuasion techniques to try to convince him to buy a property on impulse only.
As you can see in this content, there are countless mistakes that people make when buying a property, especially those that are making the acquisition of their first apartment or house. However, making efficient purchase planning, distrusting businesses that are too good to be true, and having the help of professionals with credibility in the market are measures that can make all the difference.
Still want to know more about our services?