As a business owner, you probably have many great ideas you want to bring to life. However, turning those ideas into reality can be challenging, especially when considering factors such as the cost, the need for new and untested skills, or more resources. In today's business landscape, having a strong visual presence is critical, particularly in the real estate industry, where well-designed marketing campaigns can set you apart from the competition and attract more business.
Challenges in Hiring a Local Graphic Designer
Unfortunately, the cost of hiring a local graphic designer can be prohibitive, and the quality of the output may not always meet your expectations. The excellent news is that there's a solution to help you overcome these challenges – hire an offshore graphic designer. By working with an offshore graphic designer, you can get the help you need to implement your ideas quickly and cost-effectively. This is because an offshore graphic designer can work for your team full-time and provide the creative support you need to complete the job.
The Benefits of Having an Offshore Graphic Designer on Your Team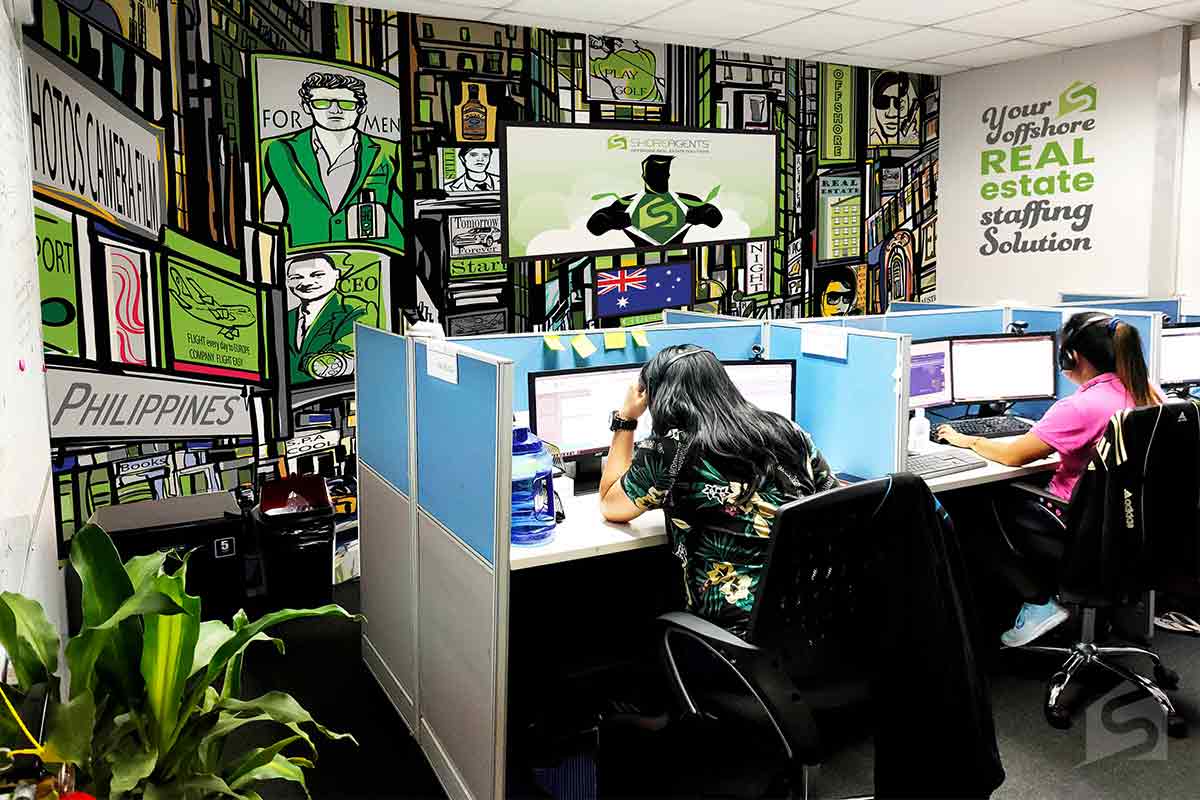 Design is crucial in today's digital world, especially in the real estate industry. In my real estate business, we found that hiring an offshore graphic designer was a game changer. Our marketing campaigns became more effective, and we could implement every marketing idea quickly and efficiently. This gave us an unbeatable competitive edge. The true secret to success in real estate marketing is the ability to produce any marketing material you need, want, or desire without worrying about cost or turnaround times.
Having an offshore graphic designer on your team also provides you with the flexibility to get the job done quickly. For example, in my office in the Philippines, I have a team of producers, one of which is our graphic designer Aina. We wanted to give our office space a unique look and feel, and I was able to brief in my ideas to Aina within a few hours. She then provided me with the designs I needed, and we made a few minor edits before the job was done.
The Many Tasks Requiring Design Support in Real Estate
This is just one example of the many daily tasks requiring design support. If we look at real estate, let me list some things that you may not have considered that you will need a designer for.
Property Marketing
Window Cards
Presentation Folders
Social Promotions
Social Covers
Pre-listing kits
Google Display Banners
Facebook Ads
com.au banners
Open home invites
Uniforms
Agent Profiles
Open home equipment
Market Wraps
Business Cards
Letter Head
Billboards
Organizing and Cost-Effectiveness with an All-in-One Book/Style Guide
To ensure that everything is organized and cost-effective, creating a book or style guide that tracks all of your designs and allows you to order and charge for them as needed is essential. We did this in our real estate business by creating an "All-in-One" book/style guide.
Elevating Your Visual Presence with an Offshore Graphic Designer
With the challenging economic times ahead, lowering overheads and standing out from the competition is more important than ever. Hiring an offshore graphic designer can help you achieve both goals and elevate your visual presence to the next level. You can access a full-time graphic designer who will help you quickly and efficiently turn your ideas into reality. This will save you from worrying about cost or time constraints.
If you aim to enhance your graphic design and visual presence, consider taking it to the next level. In that case, I encourage you to contact me and discuss the benefits of hiring an offshore graphic designer. Whether you're looking to implement a new marketing campaign, create a book or style guide, or elevate your visual presence, an offshore graphic designer can provide you with the creative support and expertise you need to succeed. With an offshore graphic designer on your team, you can bring your ideas to life, create marketing campaigns that stand out, and get the job done faster, all while keeping your costs low. Take advantage of this opportunity to grow your business and improve your visual presence – contact me today to learn more about the benefits of hiring offshore!