Hiring a Real Estate Assistant
It is never easy to handle real estate operations by yourself. That's where the support of a real estate assistant can come in handy. We at ShoreAgents are here to support you by providing you with access to a talented real estate assistant that understands what works for you.We have many solutions available for when you need to find someone who knows what is necessary for your work plans.
Your real estate assistant can cover many of the basic tasks youneed assistance with when running your business. We'll find a suitable assistant that will give you the help you desire.
We have assistants that can work on all the minor tasks you need to complete. We offer full virtual assistant services that can managewhatever work you hold. You can use our services at a fraction of the cost of hiring a local service for your tasks.
The best part is that you'll have more time to manage other tasks, including meeting with people and finding properties of value. You can handle the more detailed hands-on tasks you wish to complete, while another party will resolve all the other things that you don't want to waste your time completing. You won't have to worry about where your business is going when you ask us to support your needs.
What Is a Real Estate Assistant?
A real estate assistant is someone who helps you with many of the tasks associated with managing your properties. You can ask an assistant to help you with many of the critical tasks associated with your property.
Some of the things that your real estate assistant can complete for your business include:
Post property listings
File documents
Communicate with clients by phone or email
Manage closings and other transactions
Record data on paymentsand send them to a financial or accounting department
You can talk with an assistant about whatever fits your business and how your work can run. We at ShoreAgents will help you in noting what fits your business.
What Type of Assistant Is Best?
You need to figure out the specific assistant you're going to hire for your business when finding something. You could use a blue active producing assistant or a red assistant who can manage administrative tasks.
First, let's look at the blue assistant. An active assistant can help in showing properties, manage buyers, selling homes, completing inspections, and other things. The assistant produces whatever is necessary for operation.An active professional is best for when you're looking for someone who can directly serve you and be on hand to work for whatever you require now.
A red assistant is the admin type that focuses on different tasks. The admin will handle tasks involving documents and other things necessary for running your business well.These can entail many basic tasks, but they are also ones that might take a bit of complete and should be managed well.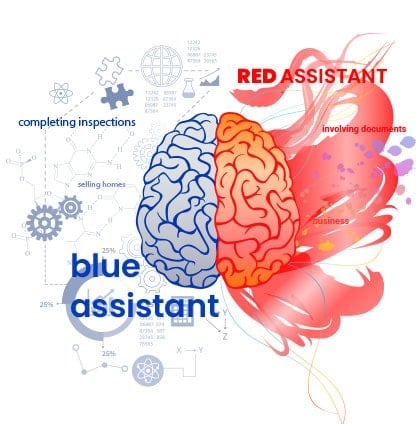 There are many other assistants out there who can support specific tasks. Some of the real estate assistant roles available include:
Marketing director
Contract to closing operator
Financial manager
Listing to contract manager
Home maintenance professional
Public coordinator
Every real estate assistant role is unique. Our offshore experts at ShoreAgents will be there to cover whatever you demand out of your work. You'll need to look at the unique tasks you wish to complete and how you're going to run your business surrounding these points. Our workers will be there to manage all those things you need to support.
All the Right
Skills Can Work
A real estate assistant can also assist you in managing your work with the right skills. You can hire someone who has experience in the real estate field. That person may be someone who has been working in your field of interest for the last few years. Someone who knows what works in your specific market can also be of value.
A person who is familiar with listing services and other office productivity programs can be valuable to your work needs. You could also find someone who has great communication skills and can organize data well.
Anyone who can manage confidential information will also be worth hiring. You will need someone who won't impact your work efforts. Our team at ShoreAgents can help you find an assistant that can support whatever data you have without risking anything being lost in the process.
An Assistant or Assistance For Your Real Estate Business?
A bit of assistance can go a long way in keeping the lights running. Hiring help for your business will help you keep your entity running smoothly. Someone should assist you in producing whatever it is you wish to complete.
An agent or agency must always complete tasks that can produce money as you finish. You could keep from earning that money if you are stuck doing the cheap work throughout the day. Having assistance in your business is necessary for success to stay functional. A real estate assistant will help you in managing the work.
You can hire an assistant that can provide full support for your business through us at ShoreAgents. You can choose from an in-person or offshore solution, but our offshore efforts here at ShoreAgents will be more effective for your budget. We have talented assistants who can work alongside whatever standards you wish to use for your business. We can run with any roles you wantto support.
How Do You Work Out What Type of Real Estate Assistant You Need?
You should identify the role that you want your real estate assistant to follow. You have to visualize what you want to do and then go from there to figure out the real estate assistant you want to hire.
You can ask these questions surrounding your business to figure out the assistant that is right for your work plans:
How much paperwork do you need to complete? This includes documents that someone else could regularly manage for you.
How are you managing your finances? You might need someone who can organize your data and keep it in check. Anyone who can confirm and record that info and keep it secure is always worthwhile.
What forms of communication do you engage in when reaching your customers or clients? Are these repetitive forms of contact that waste your time? You can have an assistant cover some of the more common contacts for you, so you can have time to manage some of the more detailed communications you want to support.
You shouldn't think too much about your budget or your plans at this point. Look at what's happening now and what you require the most. The budget point won't be a hassle when you reach us at ShoreAgents for help. We'll provide full services for your business without charging as much as another in-office party.
A Real Estate Personal Assistant or Virtual Assistant?
You can mark your roles down on paper in red or blue,depending on what the tasks entail. You can use blue for producing tasks and red for admin tasks. Take note of what actions are available and whatever might fit as you plan your work routine.
Are the tasks you need help with repetitive? Are these all tasks you can manage while online? You may benefit from a virtual assistant if that is the case. A virtual assistant can contact you online and manage the documents and other repetitive things you need to manage. The VA will ensure you don't waste your time handling tasks that someone else could complete. You'll have someone on hand to support your business.
A personal assistant would be best for when you have in-person tasks that you have to physically complete in your local area. These include forms of work that entail meeting with people face-to-face or reviewing properties. You could always hire a personal assistant when youneed to manage these detailed points, but that person might still cost a decent amount of money to hire for your work plans.
A virtual assistant will cost less to hire, plus that person will be there for some of the smaller tasks you can manage. The solution is best if you've got more tasks to manage each day, and you require extra help as necessary.
How Much Do I Pay For a Real Estate Assistant?
The amount you'd pay for a real estate assistant's services will depend on what tasks you need that professional to complete. You would pay more for someone who is of higher quality and can manage more tasks. A low-end virtual assistant would cost much less and would be suitable for basic and repetitive tasks.
You'd likely spend more on your real estate assistant if you were to hire someone locally versus if you were to gofor an offshore option. You can find someone from the Philippines at ShoreAgents that costs a fraction of what you would spend on regular services.
Hiring an offshore service can be ideal for yourwork. You could spend about a quarter of the cost of hiring a local provider when you work with an offshore professional through ShoreAgents. An offshore service will charge less and will work with the same office and resource materials as any other person. You'll have more money for your business, and you won't spend as much time managing some of the tough tasks out there.
The total will vary based on how many people you hire and how many tasks you wish to complete. You can ask us for a review of your business and a free quote to see whatever might fit your company. Everyone is different, but we're willing to support whatever you wish to complete and run in your workplace.
It doesn't cost as much to hire a real estate assistant as you might assume. You can ask us at ShoreAgents if you have regular tasks that need completing on occasion. We will be there to cover your needs and work with whatever unique standards you wish to follow.
Talk with us about what tasks you wish to complete and how much work is necessary for operation. You've got many things to do when running your business. You can let us know which of these things you need help you and then plan your work as necessary. We'll help you in finding solutions for work that fit your business and your budget alike.
You can trust the work we offer at ShoreAgents if you're looking for the best real estate assistant for your work needs. Contact us today to learn more about the services we offer and how we can assist you with whatever isnecessary for operation.
Still want to know more about our services?