The real estate industry is ever-evolving, and businesses must adapt to maintain a competitive edge. One of the most significant trends in recent years is the increasing use of virtual staff, particularly from the Philippines. This comprehensive guide will discuss where to find the right staff for your real estate business, the pros and cons of using a real estate recruiter, the benefits of outsourcing to the Philippines, and a list of virtual roles for various real estate sectors.
Finding the Right Staff for Your Real Estate Business
As a business owner, you have multiple options for finding staff for your real estate business. You can search for candidates yourself, use a real estate recruiter, or even outsource to a virtual staffing company.
Finding Staff Yourself: You can post job ads on various online platforms like LinkedIn, Indeed, or specialized real estate job portals like RealEstateJobSite.com and SelectLeaders. Additionally, you can use social media and personal networks to find potential candidates. The key to success is crafting a compelling job description that clearly outlines the position's requirements and expectations.
Using a Real Estate Recruiter: Real estate recruiters specialize in finding and placing candidates in the industry. They have extensive networks and knowledge of the market, making them valuable partners in the hiring process. Recruiters can save you time and effort but may charge a fee for their services. Be sure to research and select a reputable recruiter with a proven track record in the real estate sector.
Benefits and Negatives of Using a Real Estate Recruiter
Benefits
Access to a vast network of candidates: Recruiters have established relationships with both active job seekers and passive candidates, increasing your chances of finding the right person for the role.
Time-saving: A recruiter can manage the entire hiring process, from sourcing candidates to conducting interviews, allowing you to focus on other aspects of your business.
Knowledge of the real estate industry: Recruiters understand the unique demands of the industry and can help you find candidates with the right skill set and experience.
Assistance with the screening and interviewing process: Recruiters can vet candidates, conduct background checks, and provide valuable insights to help you make informed hiring decisions.
Negatives
High costs: Recruiting fees can be substantial, particularly for executive-level positions or specialized roles. Ensure that you weigh the potential benefits against the costs before committing to a recruiter.
Potential for mismatched candidates: Recruiters may not fully understand your company culture or specific needs, leading to a mismatch in candidate expectations and job requirements.
Less control over the hiring process: When working with a recruiter, you may have less control over the selection of candidates and the overall process.
Physical or Virtual Staff: Introducing Virtual Real Estate Staff from the Philippines
The decision between hiring physical or virtual staff depends on your business needs. Virtual staff from the Philippines offer numerous benefits, such as lower labor costs, flexibility, and access to a diverse talent pool. The Philippines has become a popular destination for outsourcing virtual real estate staff due to its skilled workforce, strong English language proficiency, and cultural compatibility.
Virtual Roles for Real Estate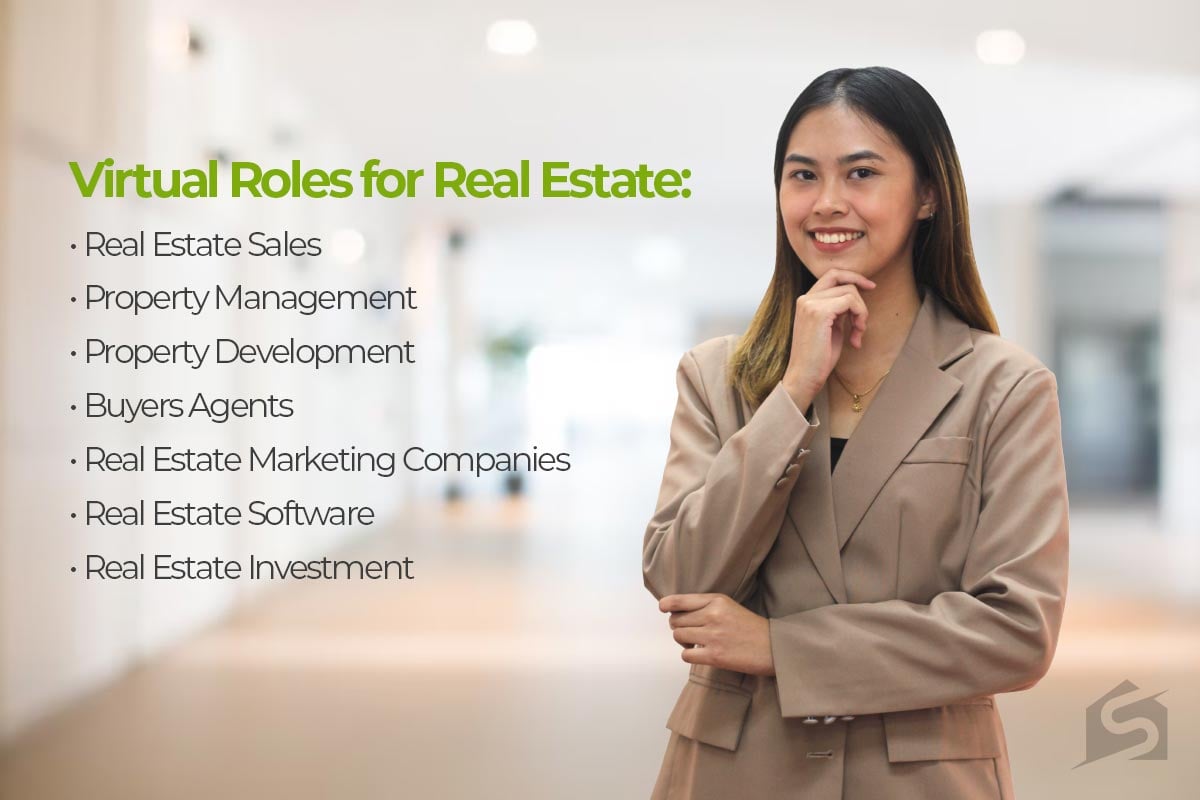 Real Estate Sales
Property Management
Property Management Assistants: Help property managers with administrative tasks, such as tenant communication, lease management, and rent collection.
Tenant Screening Specialists: Review rental applications and conduct background checks to identify qualified tenants.
Maintenance Coordinators: Manage maintenance requests, coordinate with contractors, and ensure timely completion of repairs and property upkeep.
Property Development
Project Management Assistants: Assist project managers with tasks such as scheduling, budgeting, and reporting to ensure projects stay on track.
Research Analysts: Conduct market research and analysis to identify potential development opportunities and assess risks.
Permitting and Compliance Specialists: Navigate the complex process of obtaining permits, ensuring projects comply with local regulations and zoning requirements.
Buyers Agents
Virtual Buyer's Assistants: Support buyer's agents with tasks such as property searches, scheduling showings, and managing client communications.
Lead Generation Specialists: Identify and qualify potential clients through various marketing channels, such as social media, email campaigns, and online advertising.
Market Research Analysts: Analyze market trends, pricing data, and comparable properties to help buyers make informed decisions.
Real Estate Marketing Companies
Social Media Managers: Develop and execute social media strategies to increase brand visibility and generate leads.
Content Creators: Produce engaging content, such as blog posts, articles, and videos, to attract and retain clients.
Graphic Designers: Create visually appealing marketing materials, such as flyers, brochures, and digital ads, to promote properties and services.
Real Estate Software
Customer Support Representatives: Provide technical assistance and resolve customer inquiries related to real estate software products.
Software Developers: Design, develop, and maintain real estate software applications to improve business operations and user experience.
Quality Assurance Testers: Test software functionality and identify bugs or issues to ensure optimal performance.
Real Estate Investment
Financial Analysts: Evaluate investment opportunities, analyze financial data, and make recommendations to optimize real estate portfolios.
Investment Researchers: Conduct in-depth research on market trends, property valuations, and economic factors to support investment decisions.
Portfolio Managers: Oversee the management of real estate investments, monitor performance, and make strategic decisions to maximize returns.
Benefits of Outsourcing to the Philippines for Real Estate Businesses
Cost Savings: Outsourcing to the Philippines can significantly reduce labor and overhead costs. By hiring virtual staff, you can avoid expenses related to office space, utilities, and employee benefits.
Skilled Workforce: The Philippines has a talented and educated workforce, well-versed in the real estate industry. Many Filipino professionals hold degrees in business, finance, or related fields, ensuring they have the necessary skills to excel in their roles.
English Proficiency: Filipino professionals have strong English language skills, ensuring smooth communication. The Philippines is the third-largest English-speaking country in the world, with English used as the primary language for business, government, and education.
Time Zone Flexibility: The time difference between the Philippines and Western countries allows for round-the-clock operations, providing continuous support for your business. This is particularly advantageous for real estate businesses that require prompt customer service or deal with clients in multiple time zones.
Cultural Compatibility: The Philippines has a strong customer service orientation and a high degree of cultural compatibility with Western countries. This makes it easier for Filipino virtual staff to understand and meet the expectations of clients and colleagues.
Conclusion
As the real estate industry continues to evolve, virtual staffing from the Philippines offers a strategic solution for businesses seeking cost-effective and skilled professionals. By leveraging virtual staff, real estate businesses can improve efficiency, reduce costs, and access a diverse talent pool to stay competitive in a rapidly changing market. Whether you require assistance with sales, property management, development, or investment, virtual staff from the Philippines can provide the expertise and support your business needs to thrive.