Real Estate Transaction Coordinator
What Is a Real Estate Transaction Coordinator?
A real estate transaction coordinator is a professional who assists a real estate agent in performing various administrative duties. The TC will manage tasks from when the contract is established to when the deal closes.
A real estate transaction coordinator can handle the contract side of the process. While you focus on meeting with people and establishing relationships, the TC will work on the contract and ensure all the finer points in that report go through.
The TC helps you in noting what tasks have to be completed in the transaction process. The TC can find the smallest details and ensure they are finished before you go any further.
A TC focuses on reviewing all the details that go into a real estate transaction. Your TC can also help you resolve many of the administrative tasks you might not have time to complete. You'll have more time to establish relationships with other parties and in converting your leads. Think of a TC as someone who helps you free up time for all the unique projects you wish to complete.
Our real estate workers here at ShoreAgents will see that you have the full control you deserve for handling your tasks. We will see that you have the time to do the other things you wish to complete.
Why Should You Hire a Real Estate Transaction Coordinator?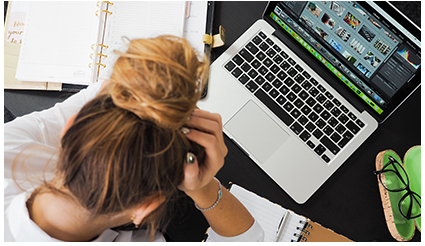 What are you trying to do when building your business? You might not have enough time to care for some essential parts of building relationships. As important as it is to complete a contract and move your funds to escrow, you have to work on many other tasks relating to your business.
Having a partner on hand to assist you in handling your real estate transactions can make a difference. A real estate transaction coordinator will help you reduce the stress associated with the transaction effort. A TC gives you everything you need for handling your property without worry. Our coordinators at ShoreAgents can help real estate operators around the United States and Canada in ensuring their documents are easier to follow and utilize.
Many positives come with having transaction coordinator available to assist you in your work:
You'll have an easier time getting your transactions to move through the escrow and closing processes.
Your TC can resolve any issues that come with paperwork, a buyer's activities, or other parties outside the business.
A coordinator can be a point of contact for people to utilize. You can get various questions surrounding your work addressed in moments.
You can coordinate many events through a TC. These occasions include showings, open houses, and other special occasions.
The paperwork process can be frustrating. A TC will check on all the things you're handling. You can ask a TC for help with filling out whatever forms you need and in seeing that all clients have their documents ready.
Any final details in the work process should be easy to run through a real estate transaction coordinator's services.
Your TC will relieve all the stresses and problems that you might come across when working. You need to see what a TC can do for you when moving forward in handling your transactions.
We at ShoreAgents respect the needs you have for time. Your time is precious to you, so it helps to have enough space in life to manage whatever you wish to complete. You can ask us about what our agents can do for your property and how we can serve you through whatever you require.
What Does a Real Estate Transaction Coordinator Do?
The services of a real estate transaction coordinator are essential to your success. You can ask one of our TCs at ShoreAgents to assist you with all the tasks you need help in resolving.
The problem with running a business is that you have too many things to do at once. You don't have enough time to manage some of the smaller things in the workplace. Even if you did, you might not have enough focus to where you can complete all of those things yourself. That's where the services of a real estate transaction coordinator can assist you. Your TC will manage whatever you wish to complete, thus keeping you from wasting all your time.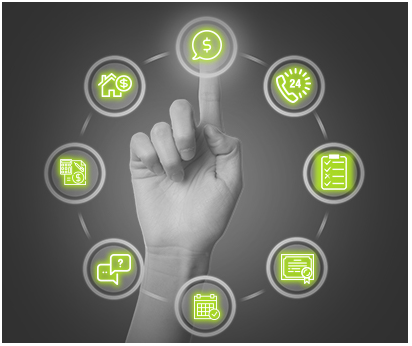 Here are some of the things that a real estate transaction coordinator can do for your business: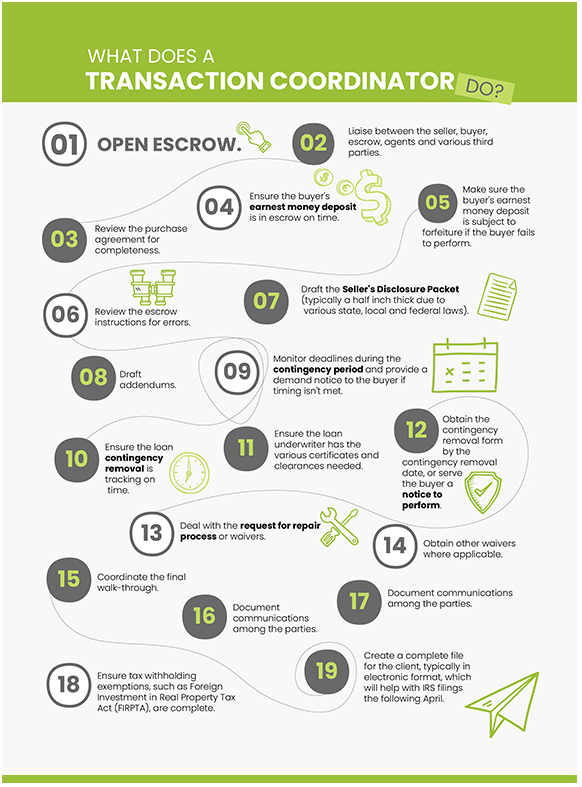 A TC will open the escrow in the transaction process.
Your TC can plan all inspections and repairs for a property. You can also ask your TC to negotiate various plans for how repairs will work.
A coordinator can plan open houses and other events surrounding your property. Your coordinator will establish dates for when people may visit a property.
Your TC will interact with lenders and other clients. A TC can provide updates on what is happening with your properties. The worker will facilitate the basic communications, while you focus on negotiations and other complex interactions with other people.
Documentation checks will review how clients and other parties can complete the necessary forms. A TC will see that the documents for work will be full and accurate.
You can also ask a coordinator to schedule follow-up calls on properties. These calls take place after the close is complete. You can also request your TC to ask for referrals.
A TC will coordinate a move-out schedule and other plans for managing a renter or client. The work comes when someone is leaving your property.
The coordinator will also check on contracts and ensure there are no inconsistencies or other things that might influence a decision. Such errors might make it harder for you to plan a work project.
All of these tasks might sound small, but they add up to something major. You have to ensure these are accurate and sensible. We'll help you here at ShoreAgents in managing all of these functions and much more.
You can ask a real estate transaction coordinator to see what one can do for your needs. Our coordinators at ShoreAgents have full experience and knowledge of real estate practices around the United States and Canada. You can hire one of our workers to manage whatever tasks you wish to complete.
Virtual Real Estate Transaction Coordinator or Local?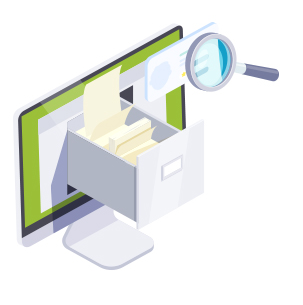 You've got one of two options to consider when you employ a real estate transaction coordinator for your business. You could opt for a virtual coordinator, or you could hire a TC that is local to your area.
The best thing to do is to hire a virtual real estate transaction coordinator. The tasks associated with the work don't have to run in your physical area. You can hire a virtual TC that can work at a computer in any part of the world.
A virtual TC does not have to be in your office. You can have that person work at one's home property. Our company has a full office for our TCs in the Philippines that you can hire for your work needs. We also provide each work with the computing equipment necessary for the work, not to mention high-quality online connections that facilitate everything one wishes to do in the workplace.
A virtual coordinator makes for an ideal low-cost alternative to hiring a traditional TC. Hiring offshore can be critical to your budget. You'll need to save money to ensure you can support more activities in the workplace. Having a virtual coordinator from us at ShoreAgents can make a world of difference.
How Much Do You Have to Pay a Real Estate Transaction Coordinator?
The total amount you'd have to spend on a real estate transaction coordinator's services will vary over where that person works. You can pay about USD 35,000 to 45,000 each year for an average TC's services.
But the cost is less than half that total when you hire a virtual coordinator. You can hire one of our workers in the Philippines for USD 14,000 a year on average.
The lower cost comes from how virtual assistants are willing to work for less, not to mention they can facilitate services for more clients at a time. You can trust our agents at ShoreAgents with your transaction management efforts without busting your budget.
Why Hire a Real Estate Transaction Coordinator in the Philippines?
The idea of outsourcing services to any country might seem daunting, but we at ShoreAgents don't want you to worry. You can hire a real estate transaction coordinator in the Philippines that you can trust and utilize for whatever needs you may carry.
Our TCs in the Philippines understand the real estate system that works in the United States and Canada. The setup for work in the Philippines is the same as what you'd find throughout much of North America. You'll see that your TC will know what works and how you can get the support you deserve.
You don't have to fear any language barriers in the work plan. The Philippines is one of the most bilingual countries in the world. People throughout the Philippines are fluent in English as a second language. English is taught in schools throughout the country. The effort ensures people in the country can consistently interact with people from other parts of the world. English is a standard language throughout the world, so having people who know how it works helps.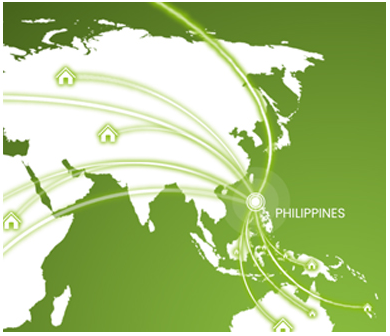 Our workers at ShoreAgents are great at communicative duties. They can reach your clients and other parties and interact with them well and represent your business the right way.
Our workers can also complete the unique administrative duties that you request. Our employees will ensure that every detail is complete in whatever bits of work you wish to finish or facilitate.
Hire Our Trained Real Estate Transaction Coordinators To Work For You!
You can trust our real estate transaction coordinators here at ShoreAgents. We will ensure that each person can give you the support you would come to expect out of a TC. We have a full office setting available for our workers and all the equipment necessary for the job.
We'll also confirm that each of our employees understands the role of the real estate transaction coordinator and what it takes to make it work. All our workers receive training to see how a TC works and how that person can facilitate transactions.
Anyone who isn't familiar with the coordination effort will receive a full education on how well the task works and what one can expect through work. A person will see how to manage different tasks and make them run as effectively as possible.
Ask Us For Help Today
You shouldn't have to wait too long to complete all your real estate transaction plans. You can request the services of a talented coordinator to help you in managing your work and making it run well.
Hiring a coordinator for your work can make a difference as you plan on asking for whatever support efforts you wish to complete. ShoreAgents can help you in finding plans for work that fit your needs and manage your business routines well. We love helping people here at ShoreAgents, especially when we see what our clients can do after our TCs work for them.
Are you trying to get back to negotiating deals with new clients? Maybe you're trying to start looking for new properties and assets once more. You'll save time and effort when you hire a real estate transaction coordinator from us at ShoreAgents. You'll appreciate how you will save an immense amount of money in the effort.
Contact us at ShoreAgents today to learn more about our TCs and how they can work for you. You will appreciate how well our professionals can assist you with whatever you wish to complete surrounding your real estate actions. Remember that we're available for you for as little as USD 1000 per month. You can afford our services regardless of what your budget for other tasks might become.
Still want to know more about our services?