How does a REVA Service Works For Your Needs?
A real estate virtual assistant or REVA can make a world of difference for your firm. But with so many options out there, it's far from easy to figure out who you can trust. You can request our services at ShoreAgents when you're looking for an outsourced real estate virtual assistant that you can trust. We provide only the most talented and experienced professionals who can serve the distinct needs your real estate firm holds.
You deserve nothing but the best support when it comes to your real estate sales needs. We at ShoreAgents take pride in having the most talented REVA professionals around. We are the home of the Shore "Super" Agent. Each agent has the training to understand the ins and outs of the real estate industry. Our agents concentrate on the fields of sales and property management. But what makes a real estate VA at ShoreAgents a "Super" Agent? We have a strict protocol on who is the best-suited to work for us here at ShoreAgents. We know that your real estate business has many unique needs that you must meet and support. Our goal is to see that we'll find the best workers who understand what it takes to make your business viable.Let's look at what makes them distinct:
1.

Each agent goes through a complete training process. Each worker studies the industry and reviews points on how the field works.

2.

We establish a positive and fully-supportive work environment for each of our workers. Everyone has access to the resources they require for work.

3.

Each agent receives continuing education on the intricacies of the real estate firm. Such points entail how neighbourhood assessments work, agent fees, ad costs, and valuation practices.

4.

Everyone also works with the newest and most advanced software programs. Whether it entails communicating with others or managing financial data, each person will use the appropriate program to manage their content.
The Purple Powered Virtual Assistant
You deserve the best support when looking at a REVA professional. One choice we offer at ShoreAgents is support from Purple Powered virtual assistants. We have teamed with Purple Powered VA to provide advanced help for all the property needs your firm holds. Purple Powered assistants are ideal for when you need someone who can assist you with your local work needs. You might have many concerns surrounding how you run your property. From collecting rent to planning out spaces to marketing, a large-scale building needs extra help. That's where Purple Powered assistants can come in handy. A Purple Powered virtual assistant is a fully-trained property management assistant. Each assistant is trained in understanding how many tasks can work. Purple Powered VA interviews the appropriate candidates for the work at hand. Each person is trained and tested to see that they understand how property management tasks work. Every candidate also receives one-on-one mentoring and education to see what works. The process of finding who is right for work is extensive. But it's all about ensuring you only work with the best people who know what it takes to give your business an advantage.
It doesn't take much for you to hire a property management professional through Purple Powered VA. You can use a few steps for your convenience: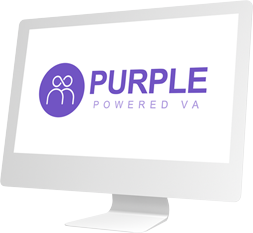 You can confirm a service agreement to appoint a Purple Powered VA as an offshore staffing partner.
You will find many candidates who are available to care for your business.
You can then interview the people you're interested in the most.
You will then select the specific Purple Powered VA that you wish to hire.
Purple will offer that person you select a position for work.
The Purple Powered VA will accept the position and then get to work.
The best part of hiring someone from Purple is that the property management worker will run with a schedule that fits your needs. The schedule may be adjusted based on your time zone and your hours of operation. You'll find that hiring a Purple agent is flexible and useful for whatever work projects you wish to complete. There's also the advantage of having an easier time finding candidates. The problem with traditionally trying to find people is that it's never easy to get leads. You'll have access to the leads you need and details on who can assist you with your business. You'll also save money, as it's much more affordable to hire a virtual assistant than it is to go through too many people in your local area.
What Can a
REVA Do For You?
Our team at ShoreAgents has the best REVA stars who can help you with your sales needs. But what is it about a real estate virtual assistant that makes one's work so useful?
Why Hire Offshore In the Philippines?
Hiring offshore workers is something that people are often reluctant to complete. But you'll find it's easier to get someone than you might expect through our services. We at ShoreAgents provide offshore services based out of the Philippines. You'll find that out offshore workers out of the Philippines are more affordable than what you might find elsewhere. The pricing for services is beyond compare. A typical offshore REVA from the area will cost $10 per hour to hire. A person with advanced property management skills can charge $15 or more per hour. The totals are cheaper than what you might expect to spend on home-based services. The fact that each ShoreAgents worker is trained to understand your needs is also a plus. You won't have to spend extra on having to train someone. Besides, paying to train people might not always work, as some candidates might drop out before the training is complete.
More Trustworthy Than Freelancers
You'll also note when hiring our employees that they have access to resources for completing your work. Hiring our proven workers is better than going after freelancers. You can also trust the people you can hire more than if you contacted freelancers from other sources. Freelancers in the Philippines and elsewhere are often cheaper to hire. You could spend $7 per hour on some of these people. But the problems surrounding those freelancers are too substantial to ignore:
Some people might not be available when you need them the most.
Freelancers might not have the necessary training for your needs.
Power and online outages can be a concern for freelancers.
Some of these workers may also have unusual or unreasonable demands. These include issues where people demand extra money well beyond what they are worth.
Communication breakdowns can be dramatic, as people might not have access to the tools necessary for staying in touch.
You might think you're finding a bargain when you hire a freelancer. But the problems will become worse in no time. Hiring an outsourced real estate agent through us is best. Our experts have the knowledge and infrastructure they need to serve your business.
Sales Administration

Our sales admin experts can assist you in whatever you need to complete. Each worker can manage different tasks surrounding how sales work, including managing the legal paperwork and contracts for home sales. Our employees can also facilitate proper lines between parties.

Property Management

Our

property management experts

can also support everything from finding tenants to managing contracts between people who wish to enter your property. You can hire our workers for anything from managing a shopping center to handling an apartment building or detaching housing property.

Marketing

We also have talented marketing experts who can work with you on managing your business' and communication needs. These include all the marketing plans you wish to support. From posting social media messages to managing

SEO

efforts, you'll find it easy to get the word out when you hire the right experts to help.
Contact Us
For Help Today
You can reach us at ShoreAgents for when you need assistance with handling your real estate business. Our offshore experts have all the training and resources necessary to manage the work at hand. Each REVA specialist will work with the tasks that you need to have completed. The services we offer are affordable. You can hire us for as little as USD $1000 per month. You can reach us online to learn more about what we have to offer.
Still want to know more about our services?