In today's digital age, having a strong online presence is essential for real estate professionals to stay competitive and attract clients. A well-designed website can showcase property listings, provide relevant information, and generate leads. Squarespace, a popular website-building and hosting platform, is an excellent choice for real estate agents and brokers looking to create a professional and user-friendly website. Although Squarespace does not offer a dedicated real estate template, its customizable templates can be tailored to suit the needs of the industry. This comprehensive guide will explore how Squarespace can be utilized for real estate purposes, its key features, and tips to maximize its potential.
Creating a Real Estate Website with Squarespace
Choosing a Template: Squarespace offers a wide range of templates that can be customized to create a unique and engaging real estate website. Pick a template that provides a clean and organized layout, with plenty of space to showcase property images, descriptions, and key features. Ensure that the template is responsive to deliver a seamless browsing experience across different devices, such as mobile phones and tablets.
Customizing the Template: Once you have selected a template, start customizing it to reflect your brand identity and cater to your target audience. Modify the colors, fonts, and layout to create a cohesive look and feel. Incorporate your logo, business name, and contact information to make it easy for potential clients to get in touch.
Navigation: Organize your website's content into a clear and easy-to-use navigation structure. Include sections such as property listings, about us, services, testimonials, blog, and contact. This will help visitors quickly find the information they're looking for and navigate your site with ease.
Property Listings: Dedicate individual pages to showcase each property listing, ensuring that they are easy to browse and search. Use high-quality images and well-written descriptions to make your listings more attractive and informative. Utilize Squarespace's gallery and slideshow features to display multiple images of each property.
IDX Integration: Although Squarespace does not have built-in IDX integration, you can integrate IDX listings using third-party plugins like IDX Broker or iHomefinder. These tools enable you to display and search MLS listings directly on your Squarespace site, providing a seamless experience for your visitors. This will allow potential buyers to search for properties based on criteria such as location, price, and property type.
Customizable Contact Forms: Use Squarespace's built-in form builder to create custom contact forms for your website. This will enable potential clients to get in touch with you directly from your site, streamlining the lead generation process. You can also set up the form to automatically send leads to your email or CRM system, ensuring that you never miss a potential client.
Blogging: A blog is an excellent way to share industry news, market updates, and other relevant content with your audience. Squarespace's built-in blogging platform makes it easy to publish and manage your blog posts, helping you establish your expertise in the real estate market and engage with your audience.
SEO Tools: Squarespace provides built-in SEO tools to help improve your website's visibility on search engines like Google. By optimizing your website's content, meta tags, and URLs, you can attract more potential clients to your site. Be sure to use relevant keywords, create engaging content, and build high-quality backlinks to maximize your search engine ranking.
Analytics: Track your website's performance using Squarespace's built-in analytics tools. This can provide insights into how visitors are interacting with your site, allowing you to make data-driven decisions to improve your online presence. Monitor metrics such as page views, bounce rate, and visitor demographics to identify trends and areas for improvement.
Integrations: Squarespace supports various integrations that can enhance your real estate website's functionality. For instance, you can integrate your website with popular CRM systems, email marketing platforms, and social media channels to streamline your marketing efforts and improve lead management. Explore Squarespace's extensive library of integrations to find the right tools for your business.
Security and Support: Squarespace offers SSL (Secure Sockets Layer) certificates for all its websites, ensuring that your visitors' data is secure during transmission. Additionally, the platform provides 24/7 customer support to help you address any issues or concerns that may arise as you build and maintain your real estate website.
Tips for Maximizing the Potential of Your Squarespace Real Estate Website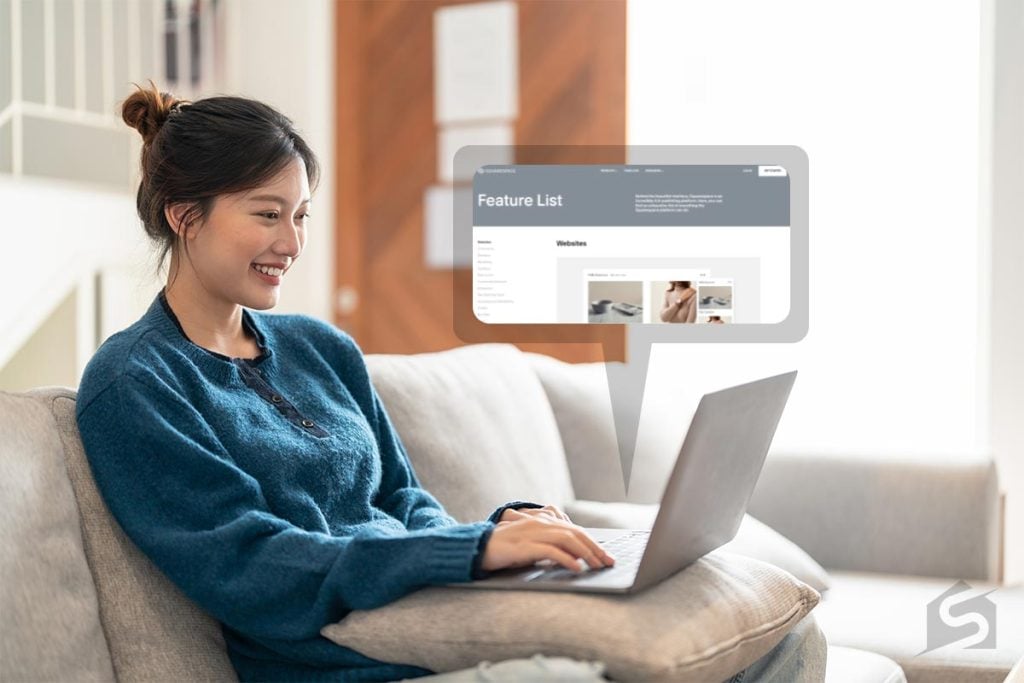 High-Quality Visuals: Invest in high-quality images and videos for your property listings to make them more attractive and informative. Professional photography can significantly impact how potential buyers perceive your properties and influence their decision-making process.
Testimonials and Reviews: Showcase client testimonials and reviews on your website to build trust and credibility with potential clients. Positive reviews can significantly influence a prospective buyer's or seller's decision to work with you.
Keep Content Fresh: Regularly update your website with new property listings, blog posts, and industry news to keep your audience engaged and encourage repeat visits. Staying current will also help improve your website's search engine ranking.
Mobile-Friendly Design: With an increasing number of people browsing property listings on their mobile devices, it's crucial to ensure your website is mobile-friendly. Squarespace's responsive templates will ensure your website looks great on all devices, but always double-check and optimize the mobile experience for your visitors.
Social Media Integration: Integrate your website with your social media channels to increase your online presence and reach a wider audience. Share property listings, blog posts, and other content on platforms like Facebook, Instagram, LinkedIn, and Twitter to engage with potential clients and drive traffic to your website.
Call-to-Actions: Encourage visitors to take action by including clear call-to-action (CTA) buttons throughout your website. These can prompt users to schedule a viewing, request more information, or sign up for your newsletter.
Conclusion
Squarespace offers a user-friendly platform for real estate professionals to create a visually appealing and functional website. By utilizing its customizable templates, integrations, and built-in features, agents and brokers can establish a strong online presence, showcase their property listings, and generate leads effectively. While Squarespace may not have all the advanced features specifically designed for real estate websites, its versatility and ease of use make it an excellent choice for many professionals in the industry. To maximize the potential of your Squarespace real estate website, focus on providing a seamless user experience, engaging content, and excellent visuals.