Occasionally as you scroll through LinkedIn there's something that catches your eye. Today I saw something by Tom Panos that really made me ask – PA or VA?
For those who don't know, Tom Panos is regarded as one of Australia's leading Real Estate experts slash trainers. He is really focused on the million-dollar type agent or the one who wants to get that point.
The post that caught my eye was about how if you don't have a PA then you are the PA. He talks about the levels you need to get to before you start to take on staff to replace yourself in parts of the process.
We need to be calling this Real Estate Business, Panos says. Why? Because the day that you get into real estate – and more importantly the day you hire staff – you are in business.
I completely agree. There were some simple slides in this particular video that really resonated with me. They allude to the certain points where you need to start getting a lot of tasks off your plate and on to someone else's.
Panos talks about two types of tasks – red is administration and blue is income producing. This is not a new thing. It does not matter what course you go to or who you are mentored by, there will be a distinction like this.
The blue income producing tasks I'll talk about another time. Let's take a closer look at those red tasks. It's about treating real estate like a business whether you are an agent or the owner of the company. It is all about PROFIT and what you get to keep in your "Sky Rocket". Any business 'expert' or 'advisor' will tell you the same thing.
So when I looked at Panos's slide I thought – what year are we in? 2019 or the early 2000s?
I can say quite comfortably that all the red tasks listed by Panos can be done by an Offshore Real Estate Virtual Assistant rather than an internal admin assistant or personal assistant.
Why would you want to do this? Well, let's take a closer look at the slide.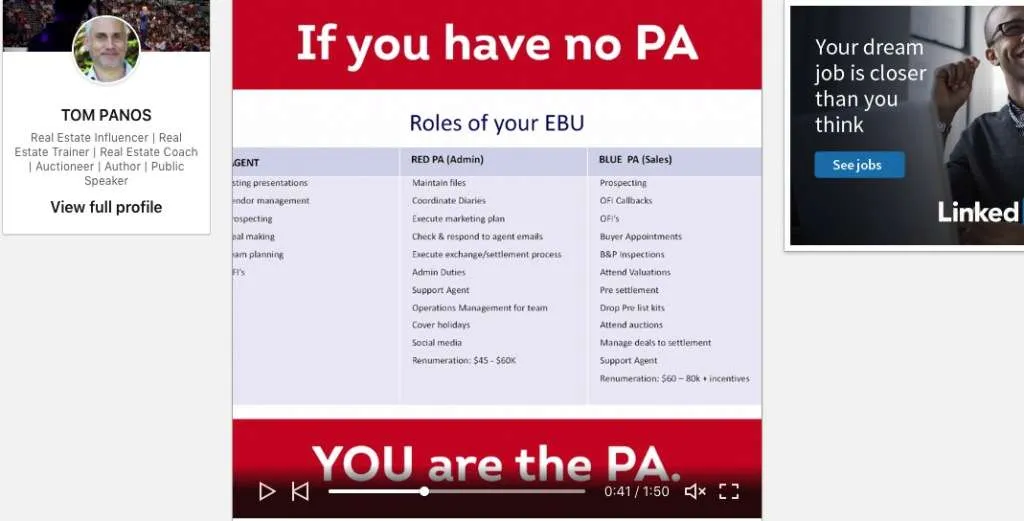 Remuneration: $45 – $60k per annum
That's what you're looking at for an internal PA. And that doesn't even include other overheads, like insurance, superannuation, equipment, workstations and all that jazz. We're talking closer to a 70k cost to the business per year.
The better alternative is to hire a real estate virtual assistant. Why? Well, now it's more like an all-in cost of $20k per year! You don't have to be a business wizard to recognise what that means. An extra $40k profit in the business is nothing to sneeze at when you look at your cost of sale. If you were to clear that you would need to produce at least another 100k in revenue.
I know already what you're thinking, and I have this conversation time and time again. What is the quality like? My answer is the SAME time and time again. Can anyone produce better quality listing agreements than someone else?
Admin is what it is. What you are looking for is speed and consistency which will be delivered if the task is underpinned by a clear process.
I would like to go through these tasks one by one to show how they can all be performed remotely.
Maintain files. Please tell me these are not hardcopies? All files should be stored on cloud-based servers whether it be Dropbox, Drive or any other platform. This task is 100% an online task.
Coordinate diaries. There are some really cool ways this can be done completely seamlessly and automatically between all parties. Totally online.
Execute marketing plan. Every time you get a new listing there is a whole bunch of admin around it. Yes, the property marketing is mainly simple admin like data entry into the CRM, booking photos, ordering the sign and creating property brochures. These days this is all online so it can all be done by an REVA.
Check and respond to emails. This one explains itself. What you may not know is that offshore staff (particularly the Filipinos who I work with) are well know for their customer service skills. They have great written and verbal English.
Execute exchange and settlement process. Some of these things are physical. But the majority of this process sits in the administration side of the business again. I'll show you my settlement checklist on Trello. Everything marked with a red arrow was done by our VA.
Admin duties and support agent. These are pretty broad but as a Real Estate Agent or business owner you will have a pile of these. It may be as simple as updating your CRM, attaching marketing plans to past appraisals, finding expired listings for you to hunt, and much more. If you need more info check out Sales Administrator for Real Estate.
Cover holidays. Imagine when you are on holiday you can just route your phone to your VA and they cover you. No buyer enquires when you have a steak on the BBQ and a beer in your hand, but no loss of a lead either.
Social media. Social media is really income generating and usually a blue task. I think in this example it is marked as red because SUPER agents should not be creating a marketing plan for social media. I can't really cover everything a VA can do in this short post, but check out Outsourced Social Media for more info.
So this is really food for thought if you are a Real Estate Agent who is kicking some goals but getting bogged down. Or if you are a selling principal that needs to be doing less in the business and more on the business.
So the key takeaway from Tom's post is that there are levels where you need to start thinking about getting some admin support and you will know if you are there.
The question I want you to ask yourself is – do you hire a $60k Personal Assistant or a $20k Real Estate Virtual assistant?