This is it. We've reached lock down in just about every country in the world. If you're not already working from home, you soon will be. As a real estate business owner, you're probably wondering – how can real estate businesses work from home?
It's not impossible. It will take a little bit of imagination and a big mind shift. But I've been using a decentralised working model for years, and here is what I have learned and can share with you.
The new normal
As a real estate business owner, you need to seriously consider the health of your staff, as well as whatever directives we'll be getting from federal and state governments. Working from home is looking like the only viable alternative for 'non-essential' businesses like ours. Your key considerations are going to be the tools you use to do your work and managing your team remotely. There's a lot more to it than that, but everything falls into those two categories.
One thing I will say before we I get into the details is that you can expect this to be your new normal. Whether social distancing lasts for a few days, a few weeks, or a few months, you're going to learn so much about your business. Everybody is. I guarantee you, all businesses will be transformed by these events. You can either embrace that change or fail. I really do believe there won't be going any back to the old ways of doing things.
Transform the tools you use
Firstly, if you haven't already moved all your programs to the cloud, now is the time to act. I'm talking about everything. Your CRM, your trust account program, your email, everything. There are great programs out there that mean you no longer need a server in the office. This is 2020 – you shouldn't even have a server.
Cloud-based programs are simple to migrate to and when you purchase a plan, the support teams will help you to move over. The programs are usually more agile, powerful, and easy to use than whatever you've been using for the past decade. For property management, check out PropertyMe, PropertyTree, and InspectRealEstate. Your staff will be able to access information from their homes or phones, while on the road, or while in quarantine.
Hopefully, most of your software is already online-based anyway. But what about your documents? Where do you currently store property reports or photos? If they're living on something called the S Drive, move them now. Sign up for Dropbox or Google Drive or Microsoft OneDrive. No doubt you've got a lot of documents and it will take a while to send it all to the cloud, so you'll need to prioritise. Focus on the most important and most recent documents first. Do it in batches. Create a schedule. It's a bit of hard work, but once you're set up, you can access those files from anywhere. And yes, you can still limit who can access what. In fact, the security protocols are probably even stronger than what you currently have.
Transform your management style
Now we get to the real elephant in the room. Your real estate business is probably already ticking along using awesome cloud-based software. What you're really worried about is how you manage your staff. Can they really do their jobs from home? How can you track whether tasks have been done properly? What about time management?
Right now, I'm managing my staff from my home office. We sent 700 people home with a computer under their arm. For some of them without home internet, we had to provide dongles or pocket wi-fi devices. In a matter of a few days, we had to source the equipment and set up systems to make sure things get lent out and returned in an orderly fashion.
One thing you'll learn very quickly is that there's a lot of trust involved in having your staff work from home. As a business owner, you'll probably be nervous at first.
But you'll find that there's little to no drop in productivity if you give your staff the Three Rs: the Right tools, Responsibility, and Regular Reporting.
Let's start with the Right tools. When it comes to getting the job done, you're probably not worried about your sales team; they're already motivated. It doesn't matter where they're working from, they're not going to stop doing what they do. But they need to have the right tools. If you have that dreaded S Drive, how can they access documents?
I've already spoken about using cloud-based tools, so I won't talk about it again here. So the other tools you need to consider are your project management tools. Now, if you think that you don't really need project management tools, think again. All the tasks that you usually manage from your desk, by picking up the phone or calling across the office or by having a meeting – these need to be properly recorded and tracked. And I'm not talking about putting everything into a Word document or an Excel spreadsheet. I'm talking about real project or task management software that can take the pain out of every day tasks.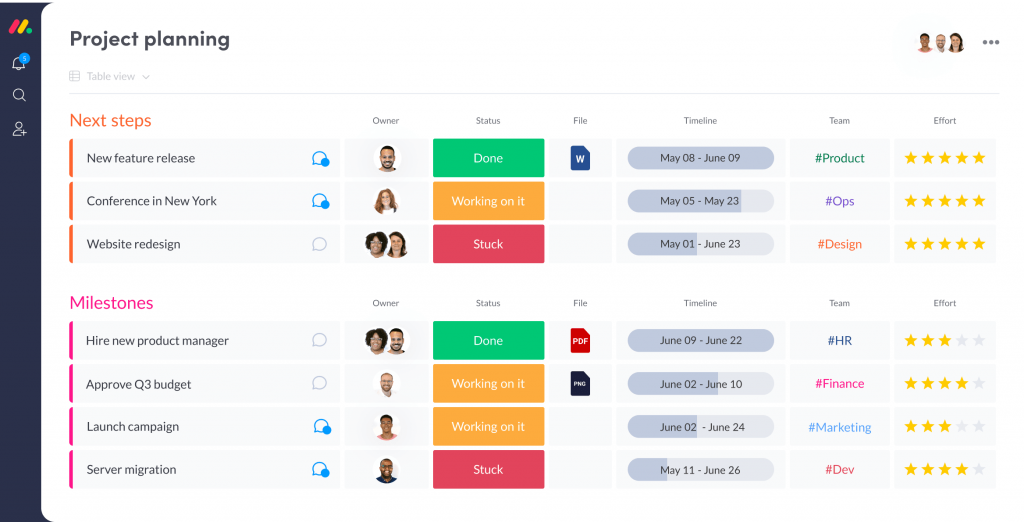 The one I'm using and loving at the moment is called Monday, but there are lots of good ones. I like Monday because it's basic but powerful. If you need something simple, Trello is a good start. If you want more functionality, take a look at Asana. These tools don't just allow you to track tasks; they make it easier to collaborate. Let's face it, every task is made up of lots of smaller tasks and there are several people working on each of them. So if everyone is spread out across the city (or country or world) how do you know who is doing what?
Using Monday or Trello or Asana, you can break a project up into its constituent parts, delegate each task to the right person, create dependencies, set due dates and reminders, and see at a glance where each project is up to. All of your business as usual administrative, marketing, and accounting functions can be set up as recurring tasks. Things that need to happen for every sale or new managed property can be set up as templates, so you don't need to reinvent the wheel each time. Crucially, you're no longer relying on a Word document which lists out what should be done. What's wrong with the Word document? Well, it doesn't actually tell you if and when something got done.
One of the hardest things to manage with a remote team is communication. Let me tell you this right now – you have to let go of email. When you're working together in one office, you can send an email and then yell across the room to get someone's attention. You can't do that across the city. If you send an email, you can't expect that your staff member is going to see it right away and act on it. You need a better way to communicate, one that is instant but which you can break out into different sections.
You need instant messaging.
The most popular workplace instant messaging app right now is Slack. Once you switch to Slack, you'll find that your inbox volume reduces by orders of magnitude. You can create individual channels to discuss sales, VIP clients, property management, advertising, or any other division that you need. Instead of emails pinging back and forth, with someone replying all, and the next person not replying all, and messages getting lost in all the nested replies, you'll all be talking in real time in one space. It's as close as you can get to a private meeting room. Plus, it's easy to add new people to the conversation and search for a particular thread.
Slack is also great for staff who don't love the idea of being on camera. I know, it's no different to being in the office, but keep in mind that some people hate the camera. Because Slack is chat based – although it does have audio and video calling available – your more introverted staff can contribute to a conversation, even if it's just a funny GIF.
There are always times when a face to face meeting is the faster and better option. For quick calls, Slack or Google Hangouts is fine. Both offer audio and video. If your meeting is longer than 30 minutes or involves more than around four or five people, it's time to use Zoom or some other video conferencing software. You've probably heard of Zoom; it's very easy to use and fairly reliable. You can comfortably have a face to face video meeting with anywhere from two to sixteen people. You can definitely have more people than that, but sixteen is a good number of faces to have on your screen at once.
All of these tools promote instant access. With your staff all over the place, they need to know they can grab each other just as easily as if they were in an office. They need to be able to reach out to each other whenever they need to, not just to get their jobs done, but also to maintain social contact.
By giving your staff the right tools, you're empowering them to take ownership of their tasks and make sure they get done at the right time. That's the Responsibility part. Now comes my favourite. The last R – regular reporting.
If you're new to a decentralised work model, you're definitely going to be nervous. How can you know if your staff are actually doing what you pay them to do? Well, do you know NOW? And if so, how? A lot of these cloud-based apps have superior reporting because they are built on the idea of collecting data. Without intruding on the privacy of your staff, you can know which projects are ticking along, how long they take, where they get stalled, how many calls came in, how many emails were received and sent. Think about the value of that data. If you're tracking and reporting regularly, you'll be able to see quickly where roadblocks are. Maybe you've had theories about which tasks take too long, but now you'll actually know. This is my favourite part. Once you can identify problems, you can solve them.
The future is now
Like I've already said, this is our new normal. Whatever you thought about the future, it's here right now. It's time to embrace the cloud, start using collaborative or project management software, and change the way you do your business as usual. Covid means an end to business as usual and only those who adapt will survive.
During this period, constant communication is key. You need to have the right tools to keep your team in contact, to manage them, to allow them to do their jobs. And if the world does continue to stay this disconnected, for business to go on and for us to survive, the ability to work from home successfully (or from anywhere) is going to be paramount.