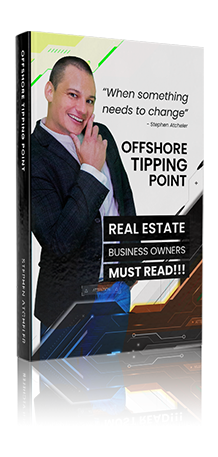 FREE E-BOOK
Offshore Tipping Point
In every Real Estate Business, whether you are starting up, been around a few years, or are a well established business, there is always a point where you may reach a "Tipping Point."
This book has been written, based on personal experience, especially to address some of the pain points we Real Estate Business Owners face on a day to day basis, and a way to overcome them.
Whether you are considering using offshore staff or not, this really is a MUST READ.
Free Book Download
Enter Your Email Address To Download The Book
STEPHEN ATCHELER
The Author of this book has 14 years of experience in all aspects of Real Estate
Stephen Atcheler started his career in Real Estate as a Sales Person from day one, in an Independently owned office in West End, Brisbane. From the first day, he fell in love with Real Estate and was destined to make this his life and career. Progressing through the ranks, he started his own business as a Re/Max Contractor at 24, then his own office at 25 and grew the business to 3 offices in 5 years. Through this growth, there has been huge challenges and nights spent staring at the ceiling. However, the commitment to growing, overcame all challenges in different ways, as you will learn from reading the "Offshore Tipping Point".
In This FREE eBook, I'll Show You
Real Estate Business Pain Points
You will hear about the typical story that many Real Estate Business Owners are facing, about to face, or have faced in the past. All businesses will face the same challenges, so it is not just you, so learn from other failures and importantly from successes.
Discovery of Offshore Staff
How I did come across offshore staff and how quickly I realised the opportunity of what it could do for my Real Estate Business? It really was not as simple as I first thought. I discovered more than just about how to implement offshore staff, but also all the different models that are out there.
Benefits of Offshoring
We will cover off on all the benefits. Of course, the first that comes to mind is the financial benefit of being able to have an army at your fingertips, for a far reduced cost compared to hiring in-house. There are many more benefits associated, as I discovered through my journey.
The Realities of Using an Offshore Team
I do not hold back on the realities of using an Offshore team, as that is not going to help anyone. I really wish, when I started the journey, that the providors were clearer with some of these things that I will go through. Knowing these things in advance, will speed up the learning curve for you.
They have read it so hear what they have to say …...
Real Estate is a challenging arena for any business person. Whether you are savvy or not. Getting an edge in this competitive market place is essential. Thankfully you can get real advice and real help from Stephen. His knowledge is amazing and total value for money.
I have been real estate for over thirty years looking back on the frustrations and challenges. If only I had been able to do this during that time be a lot less grey hairs but it's never too late. I'm in!
This book explains the best and most manageable way for business to outsource "the stuff" that costs the most money internally, but put it in the hands of capable people whilst reducing the financial and mental overhead burden.
A great read! Whether your business is big or small you will relate to this story. It is good there are now ways to push past barriers in your rent roll growth.
We started Offshoring years ago with Stephen and his team a few years ago. It is great now to read his story to fully understand why he is so knowledgeable about making Offshore Staff work for Real Estate Businesses.
Stephen was a client of mine when he was using what we called "Ninjapino's" and I was truly amazed what he had them doing.
The no-nonsense guide to real estate outsourcing, with real world examples on how to create, execute and manage your offshore strategy. Are you ready for tipping point?
It's a read for every business owner who is stuck in the old mind paradigms. Thinking they are taking jobs off locals. -Myth!! Our team love our offshore team as they help them be more productive and no longer do the tasks they don't enjoy. All in all, a far more productive team!
Yes read it "Every real estate business owner should have a read of Stephens book to discover the benefits and advantages of outsourcing. It's a quick read and definitely worth it. It could save you thousands and also importantly give you back some time".
❮
❯
You will pick up some great takeaways from this interesting E-book whether you are thinking of starting an Offshore team member or not. It is FREE so why not check it out?
Still want to know more about our services?